Volunteer
We offer day experiences and longer term volunteer opportunities.
Join the ranks, become an Army Volunteer!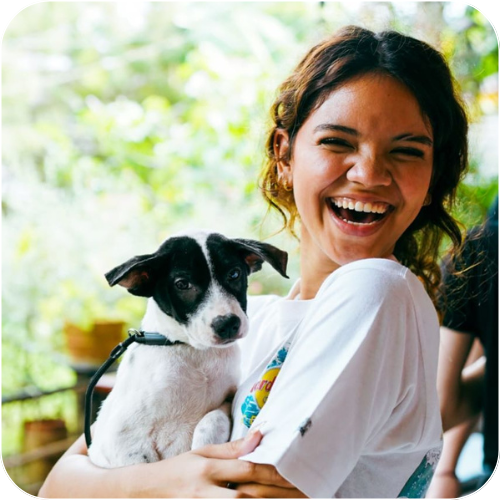 Why Volunteer
We offer day experiences and longer term volunteer opportunities.
Join the ranks, become an Army Volunteer!

• Volunteer at a busy Veterinary Hospital
• Care for the residents of our Disabled Foster Home
• Help the residents of the Flyers Foster Home
• Spend time at the beach with your new friends
• Feed street dogs in need
• Visit shelters and rescuers on our day tour options

FAQ's
What roles are needed?

• Hospital and kennel cleaning
• Foster house cleaning and maintenance
• Dog walking and enrichment
• Cat playtime
• Puppy washing
• Ambulance and catch assistance
• Photos and video for social media
• Professional vets, nurses, dog trainers, photographers and experienced shelter hands encouraged to apply
Long Term Volunteering

At the Animal Army Foundation, we value the commitment and dedication of long-term volunteers who play an integral role in our mission. We offer a minimum two week package, where you have the opportunity to live in shared accommodation conveniently located next to the Animal Army Hospital. We welcome volunteers from all over the world, to our Headquarters in Pattaya.
In partnership with Action For Dogs, our volunteer accommodations consist of two houses: the Green House and the Pink House. The Green House serves as a temporary home for foster dogs, who are patiently waiting to be flown to their forever homes overseas.
The Pink House is a haven for Animal Army's disabled dogs. In this house, our dedicated volunteers provide these special dogs with the love, support, and personalised care they need. As a long-term volunteer, part of your role will involve cherishing these dogs as if they were your own, ensuring their well-being and happiness.
Living in close proximity to the Animal Army Hospital allows you to form deep connections with the animals and contribute to their journey towards finding forever homes or receiving specialised care. As a long-term volunteer, your love, dedication, and commitment will help them thrive and bring them closer to a brighter future.
Join us on this meaningful journey and become an essential caregiver and advocate for our dogs in need
Why two week stay?

All volunteers receive extensive training, to ensure your safety in daily operation. We want both you and the animals, to have an enjoyable experience.
Those who demonstrate exceptional skills and a strong passion for our cause may have the opportunity to take on more experienced roles within our organisation. Extended stays can be considered for high-achieving volunteers, depending on availability and the specific needs of our programs.
We believe that through meaningful engagement, volunteers can make a lasting difference in the lives of the animals we care for.
How much does it cost?

1,800฿ per week (approx £5.70 / $7.50 per day) per person. All funds go towards the overheads of keeping the foster house doors open and our furry friends safe. For further information and to book, please contact us.